The Moneybutt Home Page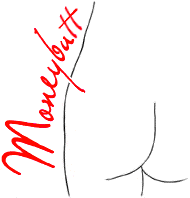 Current Games
Well, I don't think anyone expected the East Bay Express would do a short feature on Moneybutt, but life is strange. In case they ever come to their senses and yank the article, I've mirrored it .
Version History
Moneybutt v11 (12/30/05)

Tag Team Choices
More User Preferences
Voting in Categories
Only big pictures get scaled down.
Simple Chat Feature
Script Timeout in 15 sec to avoid Server-Eating Zombie Processes
Standings only every 10 votes (saving enough bandwidth for Moneybutt to be live full-time)
(admin) Category management, image management, better vote logging.

Moneybutt 3: Hinder Pot Luck

users can submit new pictures and new entities
no repeat pairs offered (for variety and to prevent easy ballot stuffing)
google link for entities (vital since so many strange entities were submitted)
report bad links link plus slick admin page to deal with complaints
scale pictures to 400 pixels wide with option to see original picture
calculate your effect on the standings
link to chat thread on Athletics Nation
Painful Choices (every 25 votes, a forced choice between two top- or bottom- vote-getters). It took a while to get this right, but it's pretty good now... we alternate between top and bottom, rotate through the top and bottom five pairs and alternate between allowing perfect records (usually the newest entities) and not. The choice cannot be skipped.
(admin) merge and delete entities

Moneybutt 2: Hinderlord Smackdown

individual accounts
voting totals tracked
statistics comparing voting patterns to other users
user levels and badges
public lists of standings, revealing the badges earned by people behind, but not in front of you
random names (e.g. Buttking Beatup)

Moneybutt 1.1: Athletics Nation Ass Smackdown FINALS

Randomly choose from a selection of different pictures, so I could use everyone's contributed pictures.

Moneybutt 1: Athletics Nation Ass Smackdown

random pairs of pictured players offered for comparison
player standings with wins, losses, and rating
originally, an amusingly sophisticated Chess/FIBS style ranking system was installed; this was replaced by popular demand with a simple win %.
instant updating of standings
very fast response
Who's Fault Is This?
The coding was done by Eric Hsu. Many ideas came from the motley crew at Athletics Nation (check the threads... search for Moneybutt).